About Us / Sobre Nosotros
The name Avelina means "small bird", chosen to pay tribute to our natural wealth, since Colombia is the country with the greatest diversity of birds in the world, and that's why, conscious of our responsibility with the environment,
we have 49 solar panels that provide us for a large percent of our energy use.
El nombre Avelina significa "ave pequeña" y fue escogido para rendir homenaje a nuestra riqueza natural,
pues Colombia es el país con mayor diversidad de aves del mundo, por eso somos conscientes
de nuestra responsabilidad con el medio ambiente y tenemos más de 30 paneles solares
que nos brindan un gran porcentaje de la energía que usamos.
Located just 10 minutes from the historic center of Santa Marta, Casa Avelina offers a cool and cozy atmosphere. Our eclectic, warm and functional style combines a classic republican house architecture with modern containers adapted as rooms and painted in graffiti by a local artist.
Ubicado a sólo 10 minutos del centro histórico de Santa Marta, Casa Avelina ofrece un ambiente cool y acogedor. Nuestro estilo ecléctico, cálido y funcional, combina una clásica arquitectura de casa republicana con modernos containers adaptados como habitaciones y pintados en grafitti por un artista local.
Our mission is to exceed the expectations of the guests who visit us, travelers, both foreigners and Colombians, interested in getting to know the best of Santa Marta and its surroundings. With the best team, being respectful with the environment and with the community, we want to promote cultural and social exchange in a fun way, offering a wide variety of spaces, activities and events, which seek to create a warm, cultural and local environment to provide high quality and entertaining accommodation.
Nuestra misión es superar las expectativas de los huéspedes que nos visiten, viajeros, tanto extranjeros como colombianos, interesados en conocer lo mejor de Santa Marta y sus alrededores.  Con el mejor equipo, siendo respetuosos con el medio ambiente y con la comunidad en general, queremos promover el intercambio cultural y social de manera divertida, ofreciendo gran variedad de espacios, actividades y eventos, que buscan crear un ambiente caluroso, cultural y local para brindar un hospedaje de alta calidad y entretenido.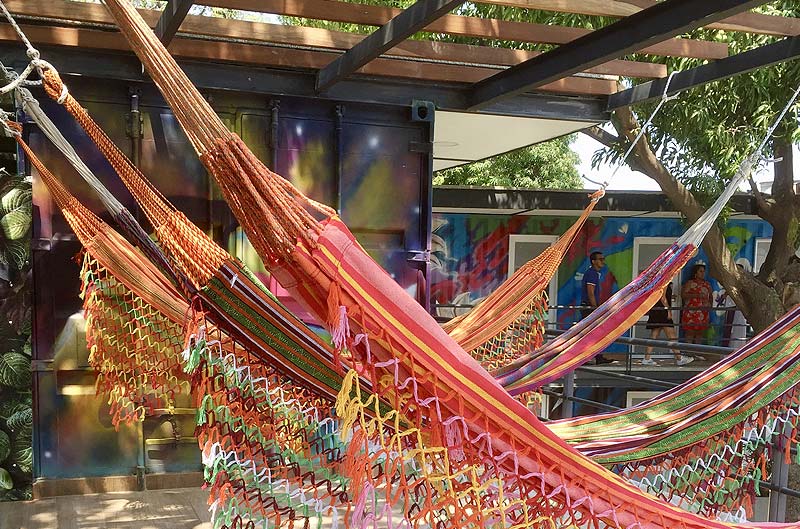 We want to be the best hosts of Santa Marta, with the highest quality accommodation and a wide range of activities and entertainment spaces. Likewise, we want to be promoters of the local culture and the care of the environment, as well as the welfare of our employees, who will be inspired and will provide the most kind service that will make our visitors not want to leave us.
Queremos ser los mejores 'hosts' de Santa Marta, con la más alta calidad en alojamiento y una gran oferta de actividades y espacios de entretenimiento. Igualmente, queremos ser promotores de la cultura local y del cuidado del medio ambiente, así como del bienestar de nuestros empleados, quienes se sentirán inspirados y brindarán el más amable servicio que hará que nuestros visitantes no se quieran ir.
Casa Avelina Hostel has / Casa Avelina cuenta con
Laundry Services /
Servicio de Lavandería
Adapted Accesses /
Accesos Adapatados
Event Halls /
Salones para Eventos
Playroom /
Salón de Juegos
24 Hours Reception /
Recepción 24 Horas
Wifi Internet Connection /
Conexión Wifi a Internet
Address Information
Av. Libertador # 14 – 52
Santa Marta, Colombia